Oven-fried yucca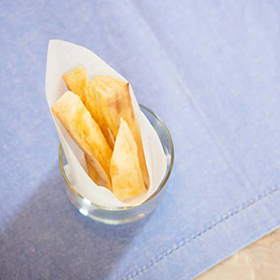 View step-by-step instructions

Makes 6 servings.
Ingredients
1 pound fresh yucca (cassava), cut into 3-inch sections and peeled (or 1 pound peeled frozen yucca)
Nonstick cooking spray
Directions
In a pot, combine the yucca with enough cold water to cover it by 1 inch. Bring the water to a boil, and slowly simmer the yucca for 20 to 30 minutes or until it is tender.
Preheat oven to 350 degrees.
Transfer the yucca with a slotted spoon to a cutting board; let it cool; and cut it lengthwise into 3/4-inch-wide wedges, discarding the thin woody core.
Spray a cookie sheet lightly with the cooking spray. Spread yucca wedges in a single layer on the cookie sheet, and spray the wedges with cooking spray. Cover with foil and bake for 8 minutes.
Uncover and return to oven to bake for an additional 7 minutes.
Nutrition information
Serving size: 1 piece (2 1/2 inches long). Amount per serving: 93 calories, 1g fat (0g saturated fat), 20g carbohydrates, 2g protein, 1g total fiber, 3mg sodium.