Roasted root vegetable salad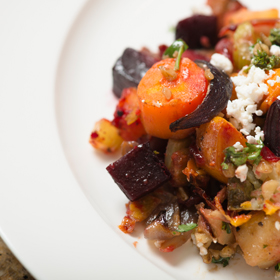 View step-by-step instructions

Makes 4 servings.
Ingredients
1 small sweet potato, about 8 ounces, cut into 3/4-inch cubes
1 medium potato, cut into 3/4-inch cubes (peeled parsnip may be substituted)
1 medium carrot, peeled, cut into 3/4-inch slices
1 small red onion, cut into 1/2-inch wedges
2 medium celery stalks, cut into 3/4-inch slices
1 medium beet, peeled, cut into 3/4-inch cubes
1 1/2 tablespoons extra-virgin olive oil, divided
Sea salt and freshly ground pepper to taste
1 teaspoon balsamic vinegar
2 teaspoons fresh lemon juice
1/2 teaspoon Dijon mustard
1 tablespoon fresh parsley, chopped
1 teaspoon cilantro, chopped
2 tablespoons walnuts, finely chopped
1 ounce crumbled feta cheese
Directions
Preheat oven to 425 degrees.
In large bowl, toss sweet potato, potato, carrot, onion, celery and beet with 1/2 tablespoon oil, coating well.
Arrange vegetables in a roasting pan.
Season with salt and pepper.
Roast, stirring several times, until tender and beginning to brown, about 50 minutes.
In mixing bowl, whisk vinegar, lemon juice and mustard with remaining oil and stir in parsley, cilantro and walnuts.
Drizzle dressing over vegetables, and gently toss.
Top with crumbled feta.
Serve warm or at room temperature.
Nutrition information
Serving size: 3/4 cup. Amount per serving: 156 calories, 9g total fat (2g saturated fat), 17g carbohydrate, 3g protein, 3g dietary fiber, 134mg sodium.