Thai broccoli beef stir-fry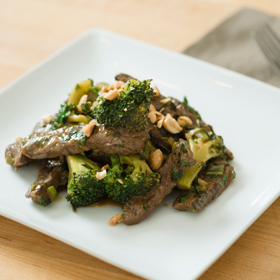 View step-by-step instructions

Makes 8 servings.
Ingredients
1 pound lean beef round steak, cut into strips
1 tablespoon peanut oil
1 cup sliced green onions
14 ounces broccoli, chopped (about 6 cups)
1 cup green pepper, chopped
1/2 cup beef broth, fat-free, low-sodium
2 teaspoons cornstarch
1/2 cup Thai peanut sauce
1/2 cup cilantro, chopped
1/4 cup dry-roasted peanuts, chopped
Directions
Stir-fry beef in oil until browned.*
Add vegetables and cover, cooking until crisp-tender, about 5 minutes.
In a separate bowl, thicken broth with cornstarch; add peanut sauce. Stir sauce into beef mixture. Cover and heat for about 5 minutes.
Stir in cilantro. Spoon stir-fry into serving dishes and garnish with peanuts. Serve.
*Cook beef to 145 degrees and let rest 3 minutes to help prevent foodborne illness.
Nutrition information
Serving size: 1/8 recipe. Amount per serving: 180 calories, 8g total fat (1.5g saturated fat), 35mg cholesterol, 11g carbohydrates, 17g protein, 3g dietary fiber, 410mg sodium.
Source: Produce for Better Health Foundation